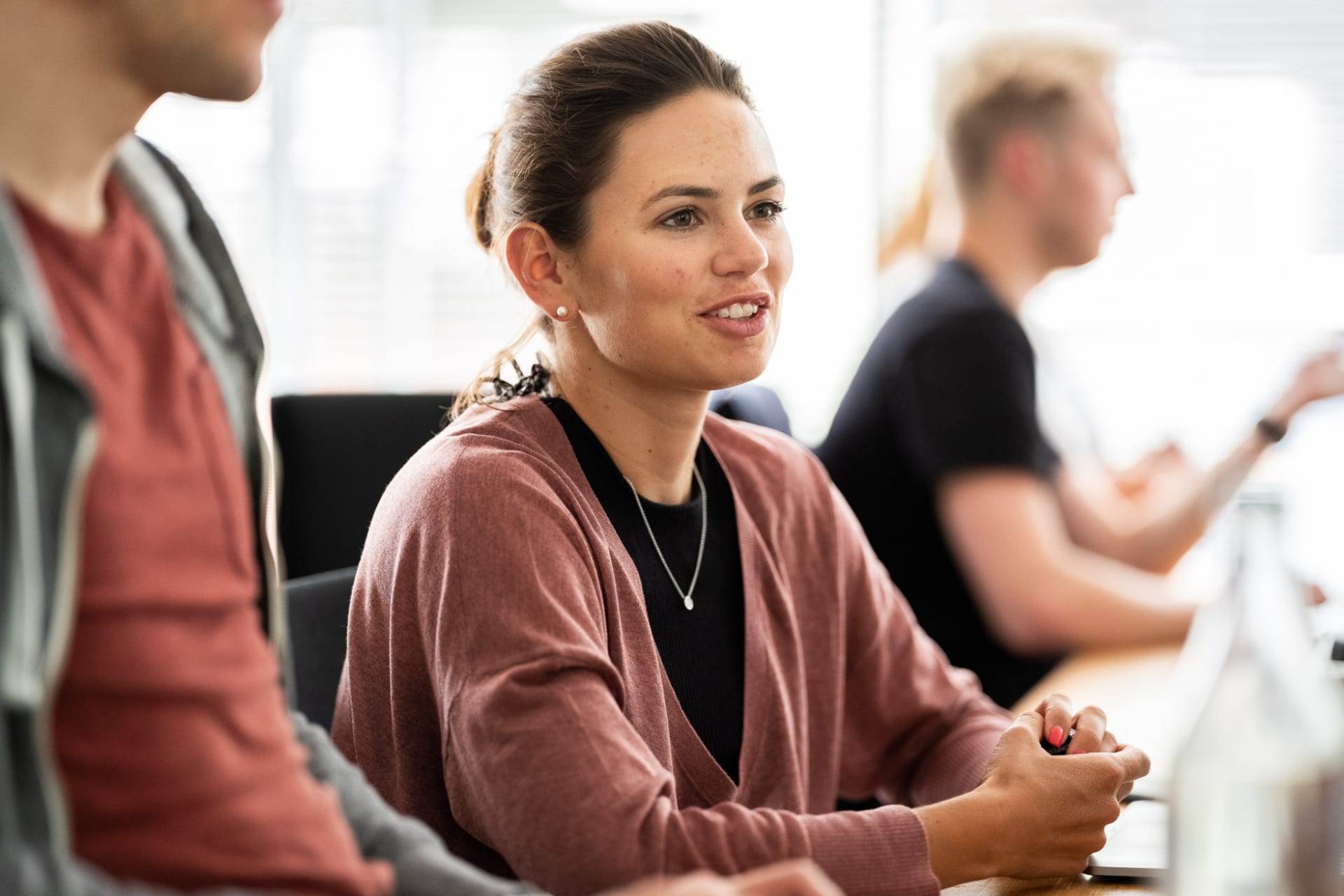 Senior Fullstack Software Engineer (f/m/d)
Düsseldorf

,

Germany

Product
Job description
We build and run highly-scalable cloud-based software products that help organizations tap into the full potential of their employees. Our products help our customers deliver the best possible human-to-human customer experience.


As a Senior Fullstack Software Engineer you are part of an interdisciplinary Product Development team with an end-to-end responsibility for one product area. You collaborate with other engineers, UX/UI designers, product managers and product marketing experts on a day to day basis. We use languages such as TypeScript/React, JavaScript, Ruby or Python and apply methods such as pair programming and test-driven development.
What you'll do:
Assume responsibility for your team's engineering results

Collaborate in cross-team initiatives to develop technological innovations and standards

Develop high-quality web applications

Extend our distributed, event-based system architecture with scalable microservices

Continuously deliver and deploy with a fully automated pipeline, and multiple daily shipments

Continuously enhance the engineering playbook with topics such as coding style, clean code or testing principles

Experiment with new technologies

Contribute in maintaining a warm, inclusive, and productive culture
Job requirements
What you bring to the role:

Several years of professional experience in web development

What we offer:
Benefits: High-end IT equipment, company smartphone, work from home, or a public transport ticket resp. free parking, stock options, the offer of a company pension plan and a job bike.
Feel-good atmosphere: This includes a state-of-the-art working environment, including free catering, team and company events, surrounded and supported by great colleagues.
Flexibility: Need some help while relocating? Do you need to adjust your working hours (part-/full-time) or take a sabbatical because your life situation has changed? If all fits together, we make many things possible.
Space for participation: Share your ideas with us! In return, we will give you the space necessary to grow creatively within an experienced, knowledgeable and fun team.
Individual development: The personal growth of each employee is very important to us. So, if you're not just looking for a job, but want opportunities to advance yourself, this is the place for you.

Continuous learning: Constantly broaden your horizons! Be it at our Open Spaces, at workshops, conferences or at our meetups and events, or by learning from failure.

Streamlined onboarding: We provide an in-depth, engaging onboarding program that brings you up to speed. Your colleagues will introduce you to everything you need to know, and will be available to answer your questions.

... and lots more.

About InVision, in a few words:
Established in 1995, we are developing Software as a Service (SaaS) products for Workforce Management and Digital Education. Thousands of business customers around the globe use our solutions. We value simplicity, trust, and teamwork. You won't find the usual hierarchical structures here but truly empowered product and customer teams. We are a diverse group of international professionals. On top of that, we are a certified Great Place to Work.

Sounds good? Let's talk next steps:
If this job offer makes your heart skip a beat, don't wait any longer: Send us your application.
Even if you're not sure whether you can fulfill all the tasks, or if you're not always one hundred percent convinced of your abilities yourself, or you think you don't have enough self-confidence, please don't hesitate to apply with us.
We are an equal opportunity employer and value diversity and inclusion. All qualified applicants will be considered without regard to ethnicity, color, national origin, religion, sex, gender identity, sexual orientation, pregnancy, age, protected veteran status, or disability status

We're looking forward to getting to know you.

or
Apply with Linkedin
unavailable